​

Mental Health Awareness
Mental Health is an important issue because it affects all aspects of life, such as personal and professional lives. The World Health Organisation (W.H.O., 2012) report identified Depression as the major cause of global illness by 2030. It is conceivable that as people improve their physical health, they are unable to deal with mental health.
Mental Health Foundation Report
In March 2017, Mental Health Foundation (M.H.F) undertook a survey about 'the prevalence of self-reported mental health' difficulties in England, Wales and Scotland. Its findings indicate that only 13% of the participants disclose that they enjoy 'high levels of good mental health'. It may be speculated that others run the risk of mental health difficulties, which would suggest that the M.H.F. confirms the W.H.O.'s prediction about the 'prevalence of depression'.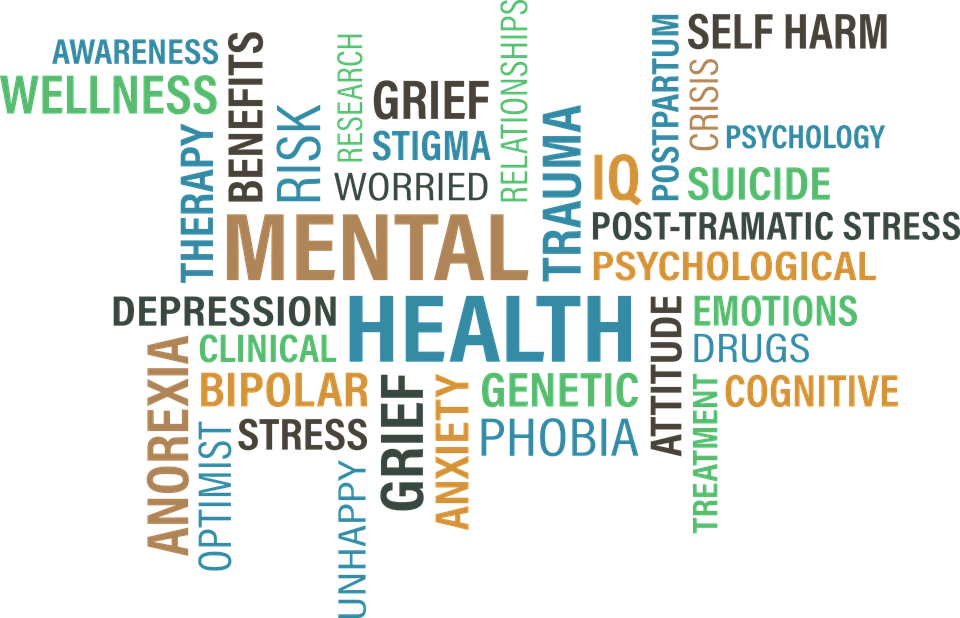 Depression is usually related to social isolation. After retirement, people may be inclined to experience loneliness if their family and friends have moved away and if they are not involved in any local community activities. Nevertheless, the M.H.F. report concluded that people over 55 have 'better mental health than average'. They engage themselves in work or leisure pursuits. Understandly, 'more than 4 in 10 people' reveal that they have feelings of depression. Still this figure is staggering as the report identified 'female, a young adult, on low income, living alone or in a large household' being at risks of mental ill-health.
The findings from M.H.F. also found that people experiencing unemployment are liable to suffer from mental health problems. Yet, people who earn higher income may enjoy good mental health. This perception may not necessarily the case. Still employers should be sensitive to the mental health of their employees, which may initially focus on their well-being ( Mind's Workplace Wellbeing, 2018). The conversation would pave the way to develop trust in the context of a collaborative working relationship. The support may consist of health coaching too, and encourage access to a wider social network.
Stronger Communities
But, the Government's vision for adult social care (DOH, 2010) maintained that practical support could help build Stronger Communities because they would provide the basis for 'strong communities' which was mooted in 2009 with the publication of the 'Putting People First'. These initiatives are promoted by 'Think Local Act Personal, TLAP' which is predominantly supported by Social Services to enable local communities to help each other. Therefore, where people feel isolated, TLAP facilitates 'community connections for older and disabled people' and 'community-based' activities.
Building Community
Building Community exists among almost all local communities. The Church and other religious bodies usually offer support to people locally. Charities, Befriending Services and Neighborhood Watch also run similar services. Some people, working as Community Navigators, reach out others by providing information, support and sign-post others to access their GPs and other services.
Lunch Clubs attract people for a social event, hence combating social isolation, loneliness and depression. In other places, 'Timebank' is run by the Church or other self-help groups, to encourage everyone to participate in their community activities, such as cooking lessons. In the London Borough of Lambeth, a few luncheon clubs joined forces whereby older people support their peers as carers.
Another interesting idea was a magazine sharing scheme which enable people to exchange their magazines with their peers. Perhaps if these practical activities are widely implemented, there may be a reduction in the incidence of depression by 2030.
Author: Nadir Mothojakan Date: 30/11/2018.